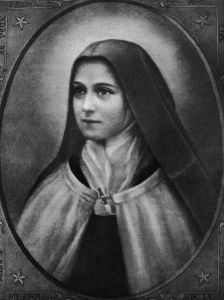 St. Therese of Lisieux, the "little flower," is my confirmation saint and I am much devoted to her! Through PrayMoreNovenas.com, I've been praying a novena to her leading up to her feast day Wednesday, October 1.
It's said that when praying a novena to St. Therese, you should look for roses as signs. Those were her favorite flower and she is often associated with them. I have very special intentions for this novena, so I was hoping for another such sign. You can read my past signs and experiences with St. Therese here.
Tonight, I dropped my kiddos off at their religious education classes at our parish for the first time this school year and returned to pick them up 45 minutes later. I walked to the end of the hall to wait for my youngest. As I stood there waiting at the very end, I looked up and literally right in front of me was a large St. Therese statue that I have never noticed before. I had no idea our parish had a statue of my saint until she was right on top of me last night! In the statue she is carrying a large bouquet of roses.
I consider that my novena sign that she is praying for me. I highly encourage you to pray to St. Therese! She is a gentle, lovely, powerful saint whose prayers are heard by God and who is much devoted to our Blessed Mother. Remember her on her feast day this Wednesday. Pray for us, St. Therese!