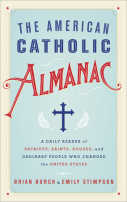 When learning about Church history and the saints, sometimes we forget that our own country has its own lofty Catholic history. While it may not date back hundreds or thousands of years, there are some amazing people and events that have taken place right here in the United States.
This July 4th is a great time to pick up the American Catholic Almanac from Image Catholic Books, which provides 365 days of inspirational stories of Catholics who have shaped America. Brian Burch and Emily Stimpson have put together an interesting Almanac to educate you about the church in your own country. Their goals were to tell the stories of the men and women who built the Catholic Church in America and show how much America has benefited from their efforts.
As you read these great stories of miracles and unwavering perseverance, the authors suggest you consider how their evangelization techniques might be used today. How can we model what these American saints accomplished and the virtues they displayed in modern times?
They note, "Perhaps, because so few of America's first Catholics have the title 'Saint' before their name, we often forget that clouds of witnesses have lived on our shores."
Did you know:
Jack Kerouac died wanting to be known as a Catholic and not only as a beat poet?
Andrew Jackson credited America's victory in the Battle of New Orleans to the prayers of the Virgin Mary and the Ursuline Sisters?
Al Capone's tombstone reads "My Jesus Mercy"
Fascinating stuff! Plus, it's an easy read, as the book is laid out by date from January 1-December 31. Simply start on the day you pick up the book (why not July 4!), and read a story each day.
Celebrate the efforts of these Catholics and honor our own amazing country this July 4th by learning how our country was formed in the faith with The American Catholic Almanac.
I received a complimentary review copy of this book from Blogging for Books in exchange for an honest review.