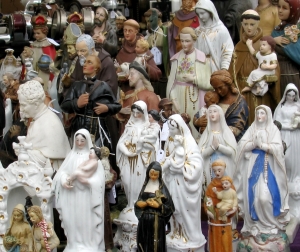 Having been exposed to many other religions growing up, I was very familiar with Christianity. But one thing (among many) that Catholicism offers unique of all Christian religions is the saints. We've all heard of saints like St. Patrick or St. Francis, but I suppose I never gave much thought about what the term "saint" meant until now.
Many people give Catholicism much flack over the saints, saying they are given too much emphasis when the focus should be solely on the Holy Trinity. But, I love the concept of saints. It gives me something to relate to and a model to strive toward. These were real people, with sin, who made the absolute best of their lives. Yes, I want to follow Jesus, but he was God and I am not. Following the path of an everyday person gives me so much hope for what we can all accomplish. I am so intrigued by this and wonder how, and why, they became saints. What was their path to Catholicism, how did they overcome obstacles, what enabled them to utterly and completely give their live up to God?
Studying these fascinating people helps me grow on my own spiritual path. It's so inspiring to read about some saints like St. Augustine, who didn't start out on the holiest of paths. If such sinners can become such saints, there is hope for me indeed!
When you learn about the Catholic church, you understand that the saints are never given precedence over the Holy Trinity. But rather they have been deemed as already in heaven at God's throne and able to pray for you to God, on your behalf, if you ask.  They are not themselves able to grant requests or miracles, but rather by praying to God, who makes it happen. It's explained that just as if you would ask a friend or a parent to pray for you or your family, so can you ask a saint to pray for you or your family. They're just that much closer to God than those of us here on earth.
I find it impossible to ignore the sheer numbers of miracles brought about from those who've prayed to a saint. Even if you don't believe in miracles, isn't there something to be said that this many people over this long period of time have claimed such occurrences? There must be something to it. For my part, I even see small everyday miracles in my own life that give me faith.
Many people feel connected to or are drawn to a certain saint, whom they devote themselves to. I, thus far, have been drawn to St. Benedict. Though not much is known about him, except through one slightly over the top biography that's hard to separate fact from dramatic fiction, I am fascinated by his Rule of St. Benedict for monasteries, something that many lay people have taken as a guide to joyful living and moderation in their own lives.
What do you think of the saints? Which saints speak to you and why? I'd love to hear stories of others' connections to saints. Please share!