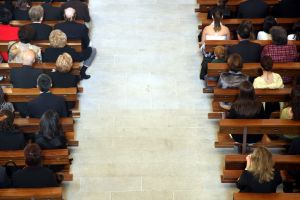 One of my biggest objections in going to mass throughout my marriage to my husband, which usually was only on special occasions, was that I didn't have a clue what was going on and that in turn made me feel stupid.
But after I heard the gentle calling and determined to take my family back to mass, I decided then and there I was going to participate fully and give it a real shot. But how to do that?
Well for starters, I picked up the guide in the back of the pew which tells you what to say at different parts of the mass. However, at our church, the guide did not seem to go in order and was quite confusing. Sometimes they said this, sometimes they said that and sometimes they didn't say either.
So I resorted to a bunch of methods to get myself up to speed so I could fully participate and wanted to share them with you so you don't have to reinvent the wheel!
Here are my tips for getting to know the mass as a newbie:
Get yourself a "guide to the mass". I actually found a book for kids at a local Catholic bookstore that explained it best to me! They break it down into the beginning where we ask forgiveness of our sins, the readings, the Apostle's Creed, the general prayers, the Eucharist and the final blessing. It will show you the different options for saying different things at different times. Keep it close at hand :).
Pick up the guide in the pew and hold it with you the entire mass. When you see the priest pick it up, he's cueing you that it's something you'll likely need to read like the Apostle's Creed.
Follow everyone else (though occasional y this can backfire!). Stand when everyone stands, kneel when everyone kneels, pick up the guide card when everyone else does.
Memorize the key portions. I found that if I didn't make the effort to memorize the "Lamb of God" portion or the "May the Lord accept the sacrifice at your hands" portion, it took me too many months before I truly knew it. You'll feel so much better being confident at knowing what to say with a little practice at home.
Remember you're not alone in learning the mass. I've been at mass several times now where the entire group stood by accident or failed to repeat after the priest what they were supposed to. Both times the priest handled it with a laugh. No one's perfect!
Attend as much as you can. The more you go, the more second nature it will become.
Just go for it. By participating as much as you can, you'll get the most out of it.
Here I am, nine months after attending my first mass in earnest and I still don't know the whole thing. Every now and then the priest will throw in one of the other options I'm not as familiar with. But for the most part with a little effort to memorize portions and attend mass weekly, if not multiple times weekly, I feel like I've got a pretty good handle on it and that feels great. Now that I know the mass, I can focus on the spiritual side of things and not that I'm going to stand when everyone else is sitting!
Have you been intimidated or fearful at not knowing the mass? How did you handle it?