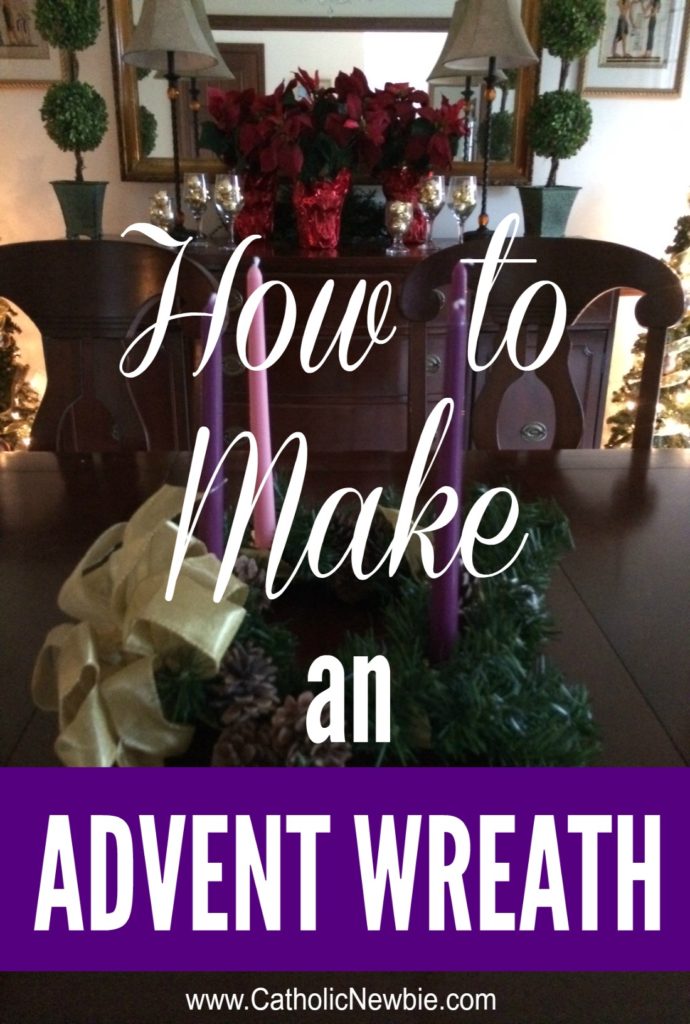 If you're a Catholic newbie like me, you may not have an Advent wreath. In fact, I've run across plenty of longtime Catholics who've never had an Advent wreath! Problem solved! Just follow these simple steps that even a non-crafty person like me can do easily, and you've got a new tradition to hand down through your family. Thanks to St. Alphonsus Liguori Catholic Church for this idea.
Materials (total cost about $10-$15):
Green floral wire
Garland
Decorative items, such as pine cones, ornaments and other wreath stick-in type items
Ribbon
Advent wreath metal frame – Two options you can order online: www.theCatholicGiftShop.com or www.CatholicSupply.com
Advent taper candles (3 purple, 1 rose/pink)
Instructions:
You should be able to find most of the items at your local craft store. The metal frame for the wreath and Advent candles can usually be found at your local Catholic bookstore or online as noted above.
1) Take your metal frame and lay your garland on top. Use the green floral wire to attach the garland to the frame. Make sure your garland is arranged so that the wreath will sit flat on a table.
2) Add the decorative items you selected, such as pine cones or ornaments, to the garland and attach with floral wire to secure.
3) Wrap your ribbon around the garland loosely. Tie a pretty bow on one side. It's usually easier if you create the bow separately and then tie it on with the ribbon you used to wrap around the garland.
4) Add your candles!
Remember to light your candles each Sunday of Advent. Use a prayer such as this Blessing of an Advent Wreath while lighting each candle. Check your local parish for free Advent materials with prayers, as well.
What is an Advent wreath? The United States Conference of Catholic Bishops says the four candles represent the four weeks of Advent. They say, "The progressive lighting of the candles symbolizes the expectation and hope surrounding our Lord's first coming into the world and the anticipation of his second coming to judge the living and the dead."
Happy Advent!
Would you be so kind as to "like" Catholic Newbie on Facebook?

Read More: