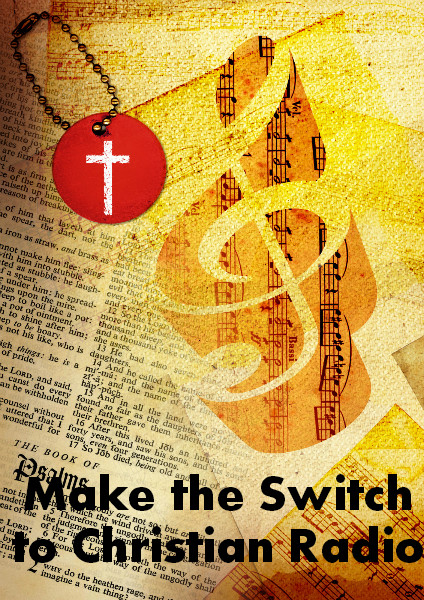 Even just six short months ago, I would have seen the title to this blog and probably run screaming :). I distinctly remember laughing and rolling my eyes about a ride in the car with someone who listened to "Jesus music" even after I had begun my entrance into the Catholic church. My how we should never say never! I can't tell you the number of times I've had to eat my words and ended up doing things I never could have imagined.
So what caused me to take an interest in Christian music? A book I was reading, "Ordinary Lives, Extraordinary Mission," a guide to becoming the saint you were meant to be, introduced the idea of being aware of what we surround ourselves with. What TV shows do we watch? What music do we listen to? Who are our friends? All of these choices can help us or harm us. The author, John Wood, shared how he switched to Christian radio, specifically K-LOVE, which is available in most major markets, for his family. That stuck in my mind for some reason because it was such a specific suggestion.
Doesn't every one feel like if they hear the same song on the radio ONE more time, they just can't stand it? I was having moments like that where I was sick of all the overplayed songs and ready for something new. Plus, I was becoming more aware of some of the lyrics and how I did not want my young boys to hear inappropriate language and innuendos, which are so common in Top 40 music.
I'd already started listening to Catholic Radio (talk radio), but I found that playing it with my boys in the car was sometimes challenging. Abortion is mentioned quite often, and it's not a topic I've figured out how to address with them yet. Sometimes the conversations even get graphic and I just don't want them exposed to that. Plus, they find it quite boring 🙂 and I'd rather they have something pleasant to fill their ears and make them happy.
SO, I thought… maybe I'll give this K-LOVE a try… I scanned the radio and found what I thought was it and decided just to listen to the music for a bit and see what I thought. I'd listen for 5-10 minutes here and 5-10 minutes there until I started to get to know the songs. I found I REALLY liked them. It didn't take me more than a week or two before I knew enough of the songs that it felt familiar and comfortable. Well, I've never really turned it off, except to switch back and forth to Catholic Radio.
The songs and the conversations are so uplifting and inspiring and truly give you a boost if you're having a challenging morning. When you listen to the lyrics, just like when reading scripture or Catholic books, you'll find messages that you need to hear RIGHT THEN. Plus, there are NO commercials, which is so lovely. Occasionally, I will switch over to Radio Disney, because I feel like they are the least likely to have offensive lyrics, but I'm still hearing the songs I was sick of several months ago and switch back pretty quickly.
I never even mentioned this switch to my kids and they've never made any comment or acted like they noticed. Suddenly their lives are just filled with positive songs, and a couple of times, they've even said "I like this song!"
Here are my tips for making the switch:
1) Just try it.
2) Promise yourself to listen just for 5 minutes a day for the next week.
3) At the end of the week, if you haven't found a song or two you like, I'll be very surprised! The music is really good and reminds me of singer-songwriter type music, which is very soulful, pure and lets the singer's voice truly shine.
Take the Christian Radio challenge and tweet about it using hashtag: #SwitchtoChristianRadio. I can't wait to hear what you think! Anyone else made the switch? How has it changed your life?
Did you enjoy my blog post? Please sign up to get my blogs by email below. Thanks for reading!