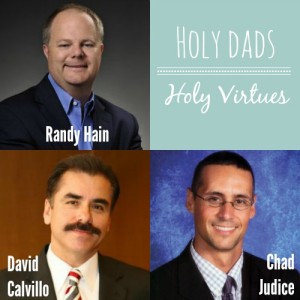 As we buy our Father's Day cards and gifts this June, many of us may be thinking about what makes our dad a "good" dad so we can find just the right card. No doubt, our dads have their share of failures, like all sinners, but I bet there's at least one, if not countless, qualities about your father that make you smile.
I've selected three inspirational Catholic dads who are living out their vocation and who, as a Catholic "newbie," have helped me on my conversion and continuing journey of faith. These dads have shown perseverance in a particular value that relates to my life, and which I think many of us — dads or moms or kids or siblings — can model in our own spiritual growth.
Chad Judice – The Power of Prayer
Chad Judice is a devoted husband and dad to two children, including Eli who came into the world with spina bifida. Chad shares his experience of learning he and his wife were expecting a child with special needs through the pregnancy and birth in his book "Waiting for Eli."
While a key lesson from Chad is learning to surrender to God's will, what struck me the most was his powerful reliance on prayer throughout the process. I immediately thought, "Wow, I don't pray for my own children enough!" I now make sure to include them at a minimum on my rosary intentions daily with special requests for graces they need at that point in their life to strengthen their faith. Fasting in times of dire need for my kids and special requests for Mary to take to Jesus have also been answered in abundance for me. Prayer works!
Throughout Chad's ordeal and painful wait to learn Eli's state of health, he turned to prayer. A teacher and coach, he committed himself to spend an hour in the school chapel daily and often asked others to pray with him (quite a foreign concept to this quieter Catholic newbie, but where two or more are gathered in Jesus' name, there He is!). While waiting for Eli's birth, he and his family visited shrines and graves of saints, turned to priests with healing powers and were blessed by the unceasing prayer of the school's students and faculty.
Randy Hain – Integrating Work & Faith
As a business owner for the last 15 years whose day never looks like a typical 9-5 clock-in, clock-out shift, balancing my work life with my faith is an area where I struggle, as I know many of us do. How do I make room for God, my children, my husband and still get enough work done to do a good job for my clients and make ends meet for my family?
Randy Hain, a business consultant and Catholic convert, has written numerous books about successfully combining work life and spiritual life, including the best-selling "A Catholic Briefcase." Randy is not only a business consultant, but author, founder of Catholic eMagazine Integrated Catholic Life and parish leader.
In his latest book, "Journey to Heaven: A Road Map for Catholic Men," Randy focuses specifically on men and dads, and he addresses the work/faith balance in the chapter "Are We Working for God's Glory or Our Glory?" He asks us to consider if work that cuts into family and prayer time is truly for God's glory or if it's actually for personal satisfaction. He dares us to take a deep look inside where we are likely to discover that an overload of work is indeed likely to fulfill our own desires.
It's true, isn't it? If you're doing more than your 40-hour or 30-hour allotted work week, it's because you WANT to, isn't it? You want the money, you want the recognition, you don't want to let anybody down, you want to make your client happy… But that what's best to get you to heaven? Good food for thought!
In the book, Randy also provides tips on how to offer the day's work to God and reclaim wasted time by transforming it into productive prayer. Great information for today's time-strapped families!
David Calvillo – Dedication to the Blessed Mother
For many men, the rosary has been relegated to the realm of, as David Calvillo says, "old ladies and funerals." He, too, was one of those men until he had a transformative experience with the rosary as an adult. Now, he's built an entire organization and written a book, both titled Real Men Pray the Rosary, encouraging men to pick up this grace-filled prayer and make it a habit.
After converting, I found myself drawn to the rosary and subsequently True Consecration to Jesus through Mary. I now make this prayer a part of my daily life, and I feel it's helped provide a sense of peace and blessings beyond belief.
I admire David's shouting from the rooftops about the blessings of the rosary, daring men to fully embrace their Heavenly Mother. And his book, "Real Men Pray the Rosary," so simply explains what the rosary is, why you should pray it and how exactly to go about it. How to pray the rosary certainly confused me early on, and it took a pamphlet from my parish (no amount of web searching helped!) for it to finally make sense. You can download a similar pamphlet from Real Men Pray the Rosary here.
Dads or sons, brothers or uncles, grandpas and husbands, these are three wonderful men to follow if you struggle with prayer, work or integrating Mary into your daily life. Moms and daughters, sisters and aunts, grandmas and wives, consider these gifting the dads in your life with books for by these holy men this Father's Day. Better yet, why not give them the gift of a quiet hour to spend reading them, too!