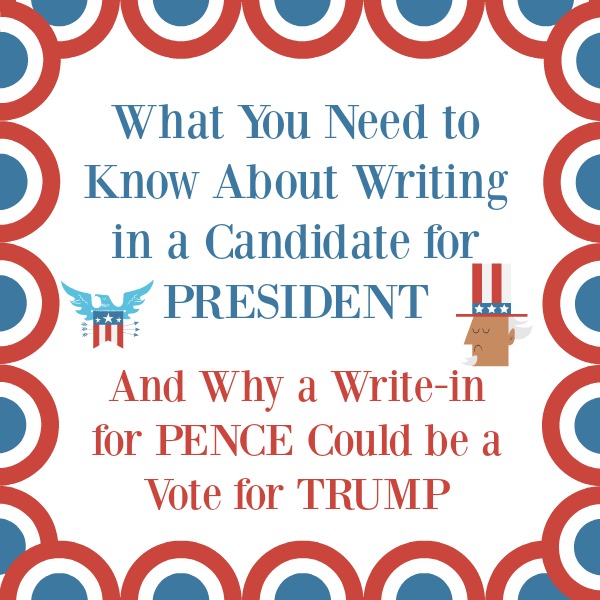 There's a lot of talk about writing in a candidate for president for the 2016 election, as many, including me, are unhappy with our two major party choices. In fact, several Congressmen, including Senator John McCain and New Jersey Rep. Frank LoBiondo, said they would write in a candidate such as Mike Pence.
Did you know that your write in vote may not count, and if you write in Mike Pence in Indiana where I live and who I think would be a much better choice, you might actually be voting FOR TRUMP! Make sure you know how to properly write in a candidate so your vote counts!
Here's what you need to know about writing in a candidate for president. This is based on information I gathered from talking with the Indiana Secretary of State's Election Commission office, but keep in mind it could be different in your state. Call your state's election commission to confirm your options.
In Indiana, if you write in a candidate, your vote WILL NOT count unless you are voting for someone who has officially applied to run as a write-in candidate. Here are our Indiana options.
If you write in someone who's NOT registered as a write-in candidate for president, your vote will not count. So consider it a protest vote.
Planning to write in Mike Pence? He is NOT registered to run for president in any state. So that's likely a no count in most states. According to the Indiana Secretary of State, it's possible they may actually include write-in votes for Pence to be a vote FOR the Trump-Pence ticket. So your write-in could end up supporting Trump. That is certainly not my intention. They indicated they have yet to determine how such a write-in will be handled. Could you imagine the extra votes that could unintentionally accrue for Trump? That could be a HUGE issue of contention as votes are tallied if Trump wins.
You can also choose not to vote for any particular race, including president.
The Indiana Secretary of State's office indicated that write-ins are also largely subject to the discretion of the precinct manager, so there could be much debate, reviewing, recounting there, as well as to what counts, what doesn't. Recall the hanging chad incident anyone?
Remember, you are actually voting for electors to choose your candidate, not the candidates themselves.
Write-ins are going to be a huge issue in this race and I predict potential chaos in correctly counting and allotting votes, especially those write-ins for Pence. Make sure you know what you are doing when you write someone in and what that really means.
Spread the word! We need to be fully informed this election!