I love to read! But these days I tend to engross myself in nonfiction books, mostly related to Catholicism, theology and religion. Sometimes, though, my brain needs a break from all the heavy stuff with a light and pleasant read. The holidays can be a perfect time for this type of reading if the rest of life is already overwhelming your brain.
I've got two new books to recommend that are just perfect for grabbing a soft blanket, curling up on a rainy or snowy day and jumping into the beautiful simplicity of these stories. These are books you won't want to put down.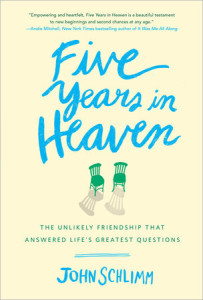 Five Years in Heaven: The Unlikely Friendship That Answered Life's Greatest Questions by John Schlimm (Image Books, 2015)
"Five Years in Heaven" is a memoir of a young professional's relationship with a 90+-year-old nun in Pennsylvania. Schlimm shares how he met Sister Augustine, who runs a ceramics shop at a 150-year-old convent where he lived, and began a five-year dialogue with her that led him to sort out God's direction for his life, learning valuable lessons along the way.
As St. Teresa of Avila says, "God is in the pots and pans," so He is in this simple story. While I am no artist and know nothing about ceramics, I absolutely delighted in the descriptions of how Sister Augustine created these little works of art that ended up bringing so much joy to so many. From her fingers molding the clay to firing them in the kiln to her gentle strokes of paint, God is in the details here. I could have read on and on about the beauty that came from her creations and from her gift of self to this young man.
It's truly a delight and covers several Christmas seasons, making it a lovely Advent treat.
The Abbey: A Story of Discovery by James Martin, SJ (Harper One, 2015)
The Abbey is a fiction tale that came to Martin in a dream. Martin is a Jesuit priest and New York Times bestselling author of Jesus: A Pilgrimage and The Jesuit Guide to (Almost) Everything, as well as editor at large of America magazine.
I love anything about a convent or monastery, as I'm fascinated with how they live their days focused on prayer and work — and all the difficulties that must come with living in community. This story follows the intersection of the lives of three people — a single man, a divorced mother whose son died as a teenager and the abbot of a monastery, also in Pennsylvania.
This is a wonderful story of love, loss and finding one's place in religion lived out in three very different ways. I think we can all find ourselves in one of these characters, relating to their struggles and their attempts to find peace in life. I finished this book in a matter of days and found myself anxious to know what happens to these characters next. It's always the mark of a good book when you are sad for it to end :).
The Abbey reminds me of the Mitford Series by Jan Karon, which followed the simple lives of an Episcopal rector in small town North Carolina. Enjoyable, easy, inspirational reading.
Get your Christmas reading in order now so when you need a break from the busy-ness, you'll have handy a copy of one of these works to put yourself in another place and time.
Note: I received a copy of "Five Years in Heaven" from Blogging for Books and a copy of "The Abbey" from HarperOne for this review.