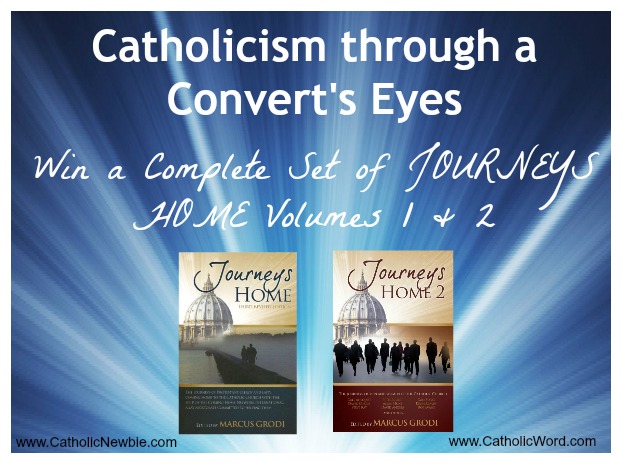 As days pass and we become comfortable in our Catholicism and the sacraments begin to feel more like a routine and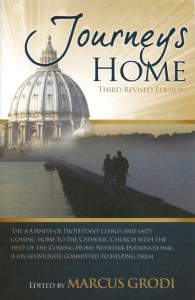 less like an encounter with the living God, it's time to shake ourselves out of that lukewarm sleep and remember WHY we are Catholic.
As a convert myself, I find it often helps to view your faith anew through the eyes of a convert, someone who as an adult actively CHOSE Catholicism because they fell in love with it. Some who choose it despite knowing they were leaving a career, friends or family behind because they knew they had found the fullness of God's truth in our faith.
Journeys Home and Journeys Home 2 edited by Marcus Grodi, founding president of Coming Home Network International, is a wake-up call to the joys of our faith. These books compile the conversion stories of men and women — priests, religious and lay people. They serve as a joyful wake-up call to the beauty of Catholicism and Jesus' call to all of us to return home to Rome.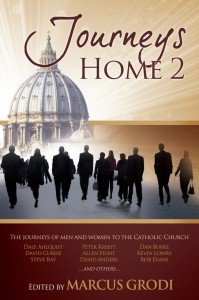 I love nothing better than a good conversion story! I love to dissect exactly what drew a person to the Church, where it happened and why. What was their thought process? These stories do a great job explaining all of this and give great logical understanding, paired with faith, of why Catholicism is the one true Church, calling people from all faiths back to the church Jesus founded 2000 years ago.
You'll enter the mind of Southern Baptists, Anglicans, Evangelical Pentecostals and Muslims to explore what drew them to Catholicism. Some more recognizable converts who share their stories in the books include:
Thanks to CatholicWord.com, I am able to gift two lucky winners each with volumes 1 and 2 of Journeys Home to inspire you on journey and re-awaken in you Catholicism's call. Simply enter the contest by completing as many of the tasks below as you desire. The more you enter, the better your chance to win! I will announce the winner on Monday, July 20.
Good luck!