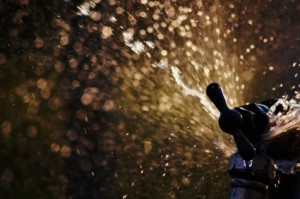 Just like the rest of the country, here in Indiana we are still watching piles of snow melt and recovering from subzero temperatures that one day hit a high of MINUS 12! That cold, cold weather froze pipes, which then burst, around our area, including my church. Multiples pipes burst leaking water into the sanctuary, the sacristy and our day chapel. And while I know that's not a great thing for our church, some good has already manifested itself.
I've been going to daily mass about 4 days each week since the beginning of the school year. Like most churches, I suspect, it's a place of peace, quiet, serious reflection and reverence for our Lord. I never really interact much with any of my fellow mass-goers because I'm naturally a quiet person and the tone doesn't lend itself to casual conversation anyway.
Because of the water, services for daily mass had to be moved to our religious education classroom building, while the day chapel held the items that were in the sacristy.
I am amazed at the atmosphere created within a simple white-walled classroom. When the pipes broke, it seems down came the walls of silence and separation, too… When I walked in yesterday, it still felt like an altar and chapel and appropriately reverent place to worship our Lord (quite a transformation of this room), but the tone was entirely different.
Everyone was quietly chatting and upbeat, the lights shone, and even Father, who is usually quite serious during mass, opened up sharing his characteristic dry wit, giving everyone a chuckle. I talked with some folks I've never spoken with before, but who I see all the time, and I felt for the first time a real part of this community, a true  member of the body of Christ. 
Such situations also remind us to be thankful of what we have. My church is in a well off community and we don't lack for much, so even having a very nice classroom to move daily mass to is a blessing. But it's a reminder of how truly blessed we are to have a beautiful church and day chapel to worship in.
In the classroom, there are no kneelers, so we all have to bear the slight pain that comes with kneeling on a hard floor, a not-so-difficult penance we can offer up. There is also no Blood of Christ, which I really miss. Again, it makes me appreciate being able to partake of the Blood of Christ nearly every day at mass. What a gift and one that I take for granted!
So while restoration companies and plumbers and clean up and fans galore aren't such a great thing, every once in a while it's good to open ourselves, be reminded of what we have and let the walls come tumbling down… just not the pipes!